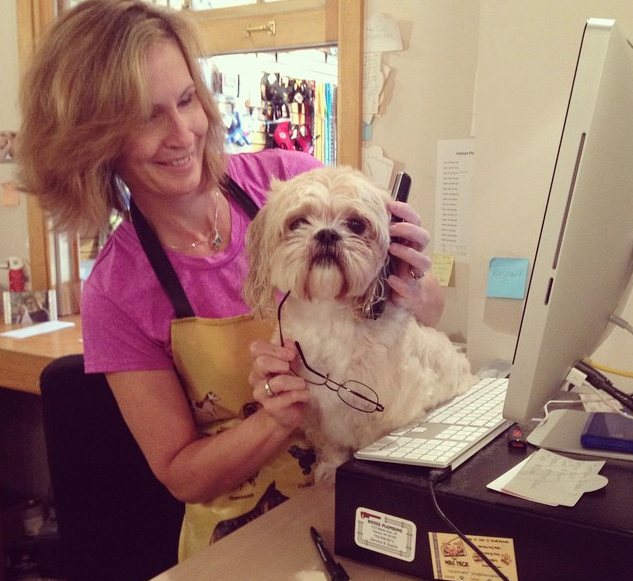 Growing up in the area, Carol always knew that Vienna was a special place. After a variety of careers in other industries, she finally got the chance to chase her dream of owning her own pet business in 2008…and Vienna Pet Spaw was born. Certainly an act of passion, Carol has devoted every day since to her beloved clients, both dog and human. (The dogs are her favorite though!) Outside of her business, Carol loves spending time outdoors with her husband Mark. The couple love to stay active together biking and hiking any chance they get. The youngest of eight siblings, Carol also adores spending time with her family. Carol and Mark live in Herndon, shockingly with no pets of their own! She says she thinks of all her clients as her own pups, but we're hoping someday we can convince her ;)
Born and raised in Vienna, Kelsey has always had a passion for animals. She was lucky to find her dream job a decade ago, starting work at Vienna Pet Spaw when she was sixteen years old. Kelsey enjoys all aspects of managing the spaw, whether it be behind the desk, at the tub, or at the grooming table. In her spare time, Kelsey volunteers at The Animal Welfare League of Arlington. Fostering sick animals and dogs with behavior challenges has been one of the most rewarding experiences of her life thus far. Kelsey lives in Arlington with her husband Colby, and their three fur babies, all rescued pit bull mixes.
A Jersey girl at heart, Sarah has been grooming for 10+ years. Her favorite breeds to groom are Poodles, Shih Tzus, and Yorkshire Terriers. Sarah's biggest passion is for senior dogs. Her senior clients and her rescued English Lab Maisy own her heart! Through her years of experience, Sarah has grown to love taking care of our older companions, who often need extra love and patience during grooming. On the flip side, she also enjoys helping clients with their puppy's first haircut! Outside of her work, Sarah loves hiking with her Border Collie Mix Roxie, book club, trips to the beach and rooting for the Philadelphia Eagles. She lives in Loudoun County with her four legged and two legged family members.
Ariel started her grooming career 5+ years ago in Los Angeles, where she was formally trained in all breed cuts. She has brought a bit of her California style back to Virginia with her, being able to do a variety of Asian fusion styles as well as creative grooming. Hair dye and mohawks available on request! While Ariel likes to have fun with her grooming techniques, she also excels in traditional breed standard cuts. Ariel is trained to provide hand stripping as well, another service she is passionate about. Away from the salon, Ariel is happily married and enjoying her new East Coast life in Herndon with her terrier mixes Marty and Teddy.
Katie started her grooming career with us shortly after completing grooming school at the Virginia School of Pet Grooming. Starting first as a bather and then a full time groomer, Katie has developed her skills and passion for the craft. Over her 3+ years of hands on grooming experience, Katie has become specialized in our salon's most popular clientele….oodles of doodles! Outside of work, Katie loves chilling at the pool, kick boxing, and spending quality time with her German Shepherd, Leah. Katie lives with her family in South Riding.